My taste in watches usually reflects my personality. I own the Orion Rose 33, which is admittedly the most feminine model in the entire collection. NOMOS asked me (@MissAceJewelers) to wear their new Ahoi Neomatik Signalrot ref. 563 for a week; an opportunity to wear something totally crazy and cool. After only seeing photos of the watch, I was skeptical that the Ahoi Neomatik Signalrot would be something I would really want to wear on a daily basis, and so not me. It's the type of watch I considered a 'nice to have' watch, but kind of a frivolous investment.
My first thoughts were that the 36mm case size was a welcomed little sister to the original Ahoi in 40mm. With the bright colored dial, the case size also doesn't need to be huge. I have a small wrist, so I would never wear a 40mm watch anyway (but I guess I should never say never...). Once I laid eyes on the watch, the dial looked more like a 'watermelon red.' The red dial has pink undertones to it, while I was expecting more blue undertones. The orange seconds hand is a playful accent color. This is a fierce combination that started to make my heart beat after getting my hands on it for the first time.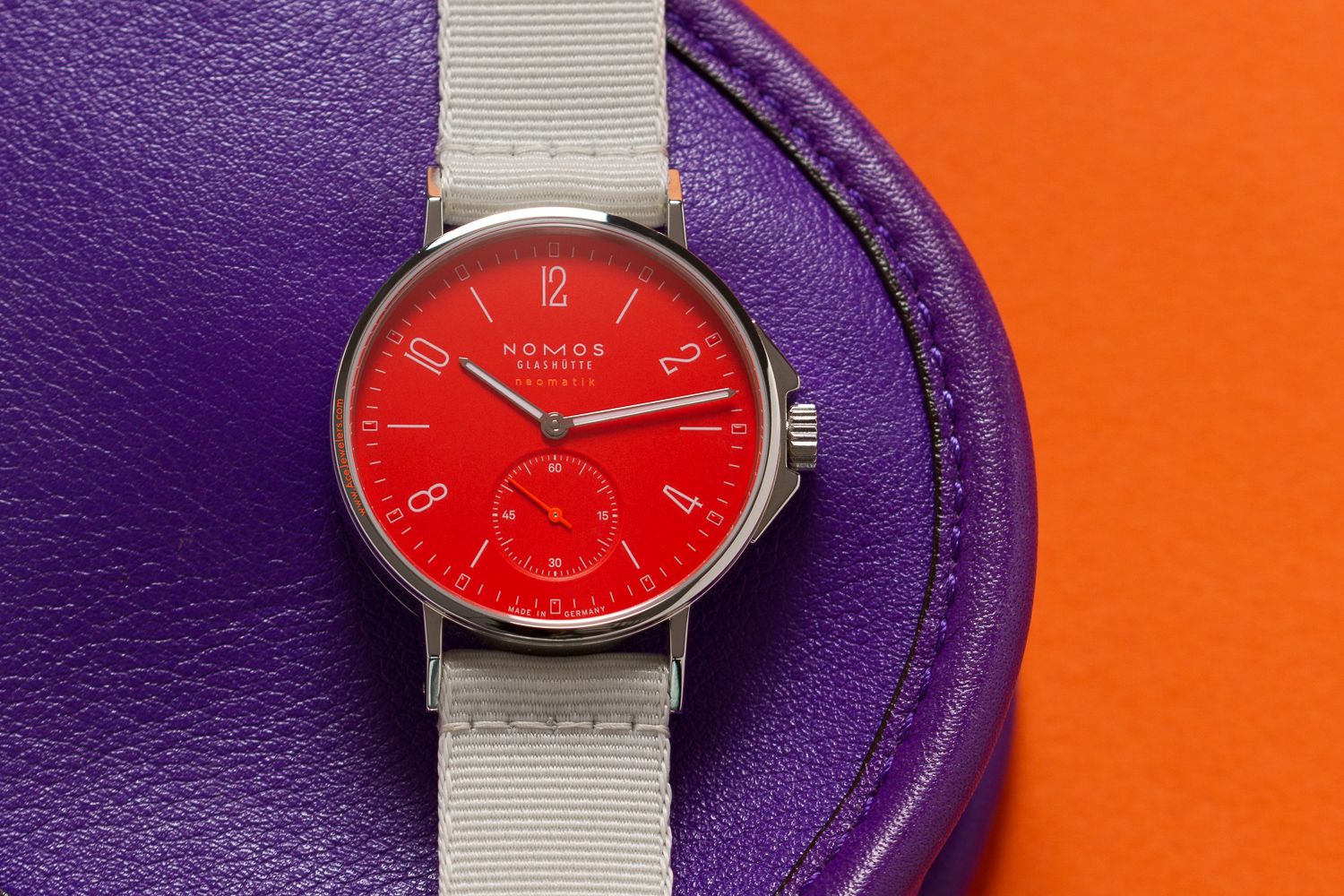 While my biggest concern was if this watch going to go with my style, to my surprise, every day I got dressed, I found the watch more and more fun to wear. Some days, I matched a red top to the dial. Then there were other days where I wore something that I thought would definitely clash. I wore a pink top with a tropical flower print cardigan, I loved the pop of color on my wrist, although I really would have thought the two would compete. My pink blouse brought out the pink undertones in the dial. It amazed me how versatile a statement making watch like the Ahoi Neomatik Signalrot is from a fashion standpoint.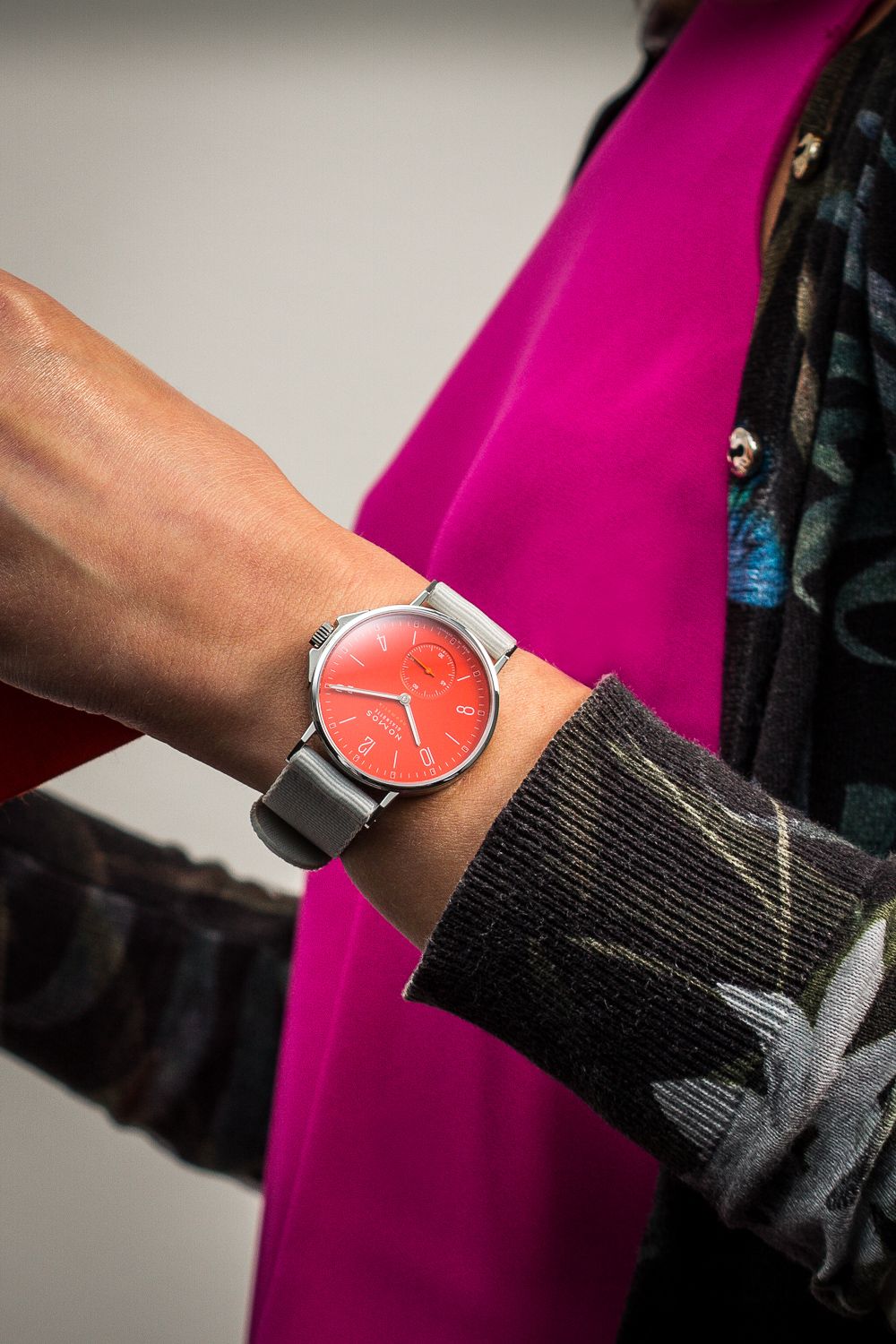 The dive inspired watch is waterproofed to 200 meters. The watch has a screw in crown and crown protectors, resembling a dive watch. The caseback is screwed in with six screws to ensure water resistance to 20atm, which is the DIN8306 standard for dive watches. The grey nylon strap is also perfect for swimming. From a purists perspective, a watch can only be considered a dive watch if it has a rotating bezel and a central seconds hand. NOMOS' closest thing to a dive watch, the Ahoi, does not have all the functions that make a dive watch a dive watch. For a company like NOMOS who's ethos is based on a 'form-follows-function' design law, the form of the Ahoi is a little conflicting for that reason.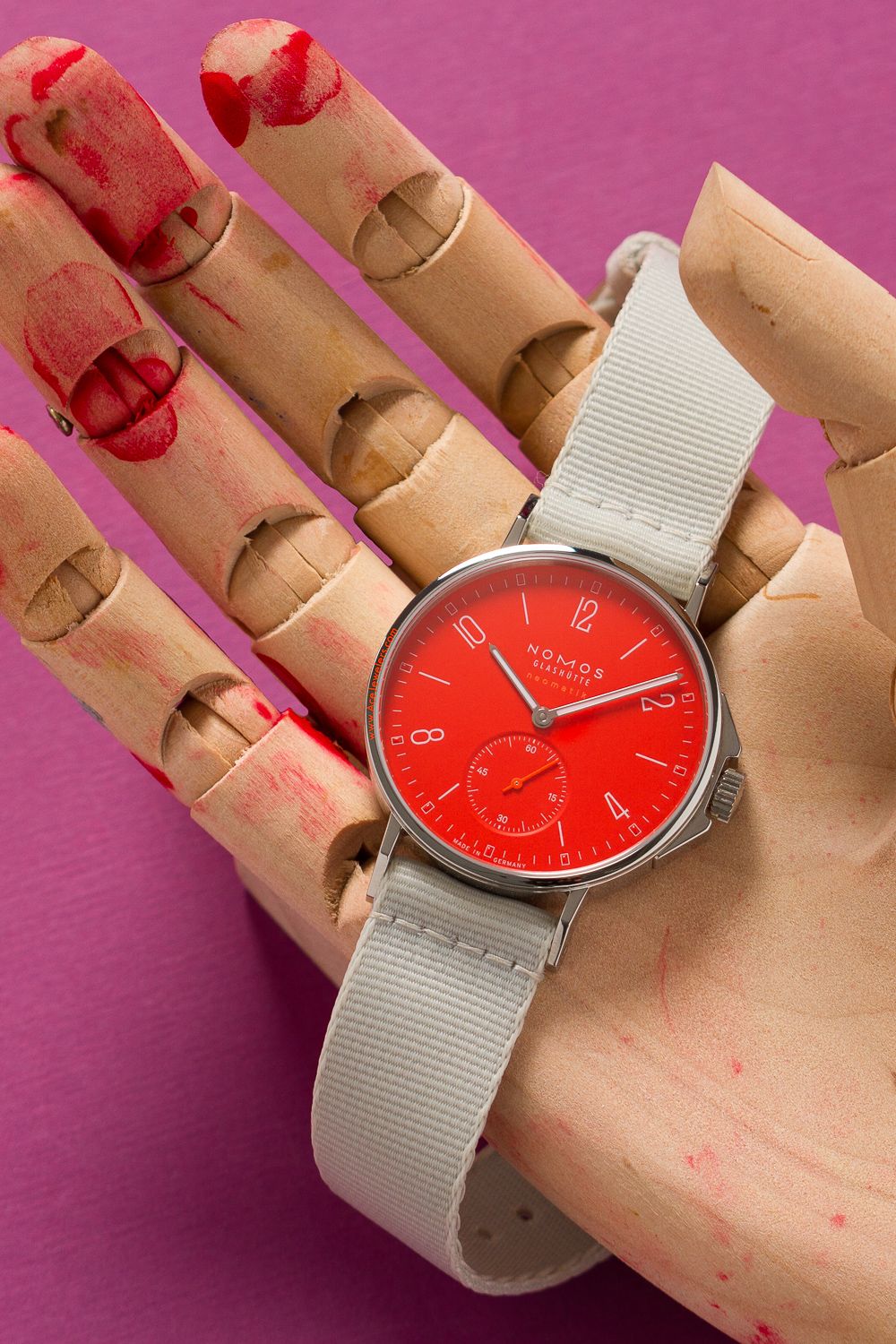 In any case, I would still take this watch with me to the beach, even without the rotating bezel. I found myself wanting to dress up the watch a little with a sleek black leather strap. Sometimes the grey nylon strap felt just a little bit too casual for me. And, to my surprise at the end of the week, the watch really was versatile enough for a beach day to a date night.
As Friedrich Nietzsche asked, 'Is life not a thousand times too short for us to bore ourselves?' I guess the same can be said for watches. Thank you, NOMOS for making this watch with a whole lot of personality that's great for daily wear. After all, life is way too short for boring watches.
The NOMOS Ahoi Neomatik Signalrot retails for EUR3.160 including VAT and is available for purchase online here.
~Elise