Born in Amsterdam, raised by the world: Ace Jewelers & Frederique Constant join forces for a limited edition Highlife Worldtimer that pays tribute to the vibrant city of Amsterdam.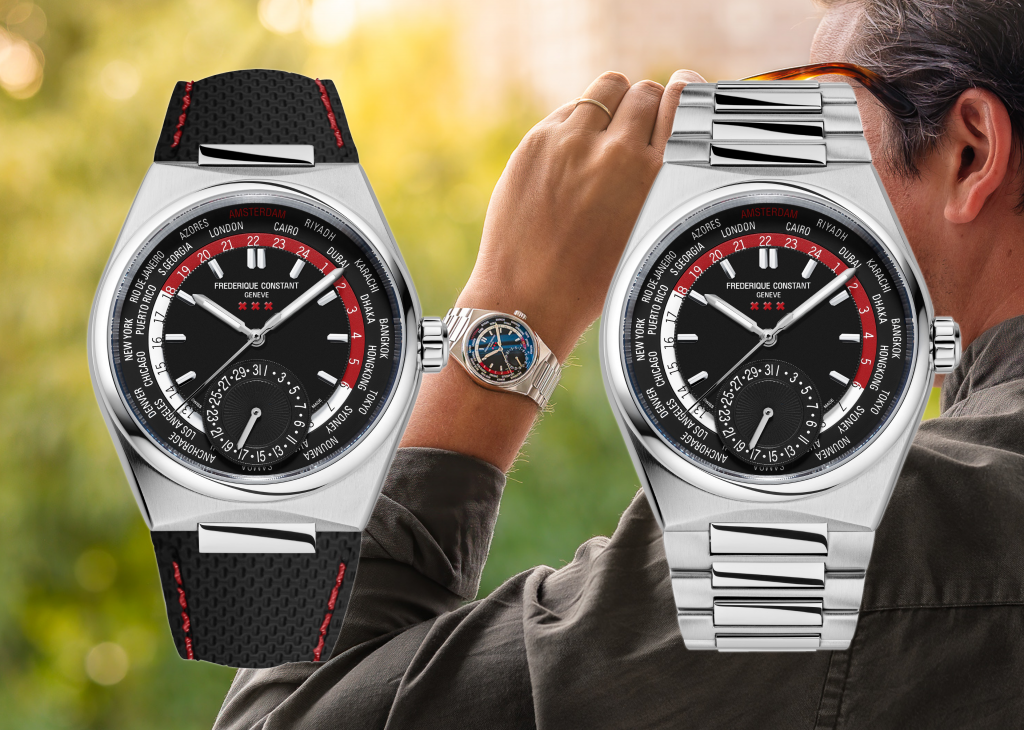 Ace Jewelers and Frederique Constant jointly present the Highlife Worldtimer Amsterdam, a limited edition of 100 pieces.
The matte black dial with dashes of red and white is inspired by the flag of Amsterdam
Ace Jewelers is based in the Netherlands; Frederique Constant was founded by a Dutch couple, and to this day has a Dutch CEO.
Amsterdam / Geneva, November 1st, 2023 – Ace Jewelers and Frederique Constant are proud to present the Highlife Worldtimer Amsterdam, a limited-edition collaboration uniting the Dutch Jeweler and the Geneva-based watch brand [with Dutch roots]. Derived from the Highlife Worldtimer series, the Amsterdam edition boasts a 41mm stainless steel case complemented by a distinctive matte black dial, all driven by the in-house caliber FC-718. The Highlife Worldtimer Amsterdam is available in a one-time limited run of just 100 pieces at a price of EUR 4.295 incl. VAT / EUR 3.550 excl. VAT.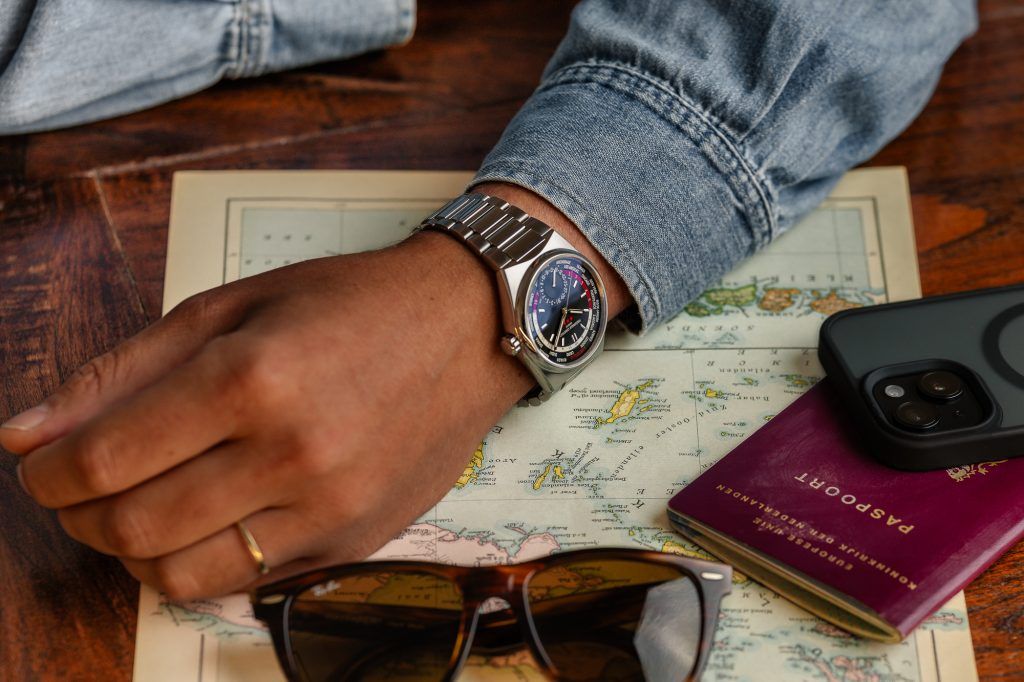 Ace Jewelers x Frederique Constant Highlife Worldtimer Amsterdam
"Frederique Constant has deep ties with the Netherlands. The brand was established by a Dutch couple, and the current CEO, Niels Eggerding, who has been a dear friend of mine for almost 20 years, is also Dutch," explains Alon Ben Joseph, owner of Ace Jewelers. "The introduction of the Highlife collection signifies a fresh direction for the brand, one that I greatly appreciate, especially when combined with their outstanding in-house Worldtimer movement. Following the success of our previous worldtimer, the NOMOS Zurich Weltzeit Amsterdam, I've been thinking about a sequel in this globetrotting series. The Highlife has proven to be an ideal canvas for this endeavor, and I'm really proud of the result".
The Ace x Frederique Constant Highlife Worldtimer Amsterdam departs from the opulent aesthetics of the regular model, opting instead for a sleek and utilitarian design. The sunburst finish with an embossed globe on the dial has been replaced with a matte black surface. Hints of red and white evoke the colors of the Amsterdam flag: red 'Amsterdam' which replaces 'Geneva' on the city disc, the red nighttime hours on the 24-hour disc, and the three crosses that symbolize the city as appliques at 12:00.
"Amsterdam occupies a unique and cherished spot in my heart, not just as one of my favorite Dutch cities but as a beloved destination worldwide. It's my birthplace, and in later years, I've been fortunate to both reside and work in this captivating city for an extended period. When my dear friend Alon suggested the idea for this collaboration, it felt entirely natural for us to wholeheartedly embrace it", says Niels Eggerding, CEO of Frederique Constant.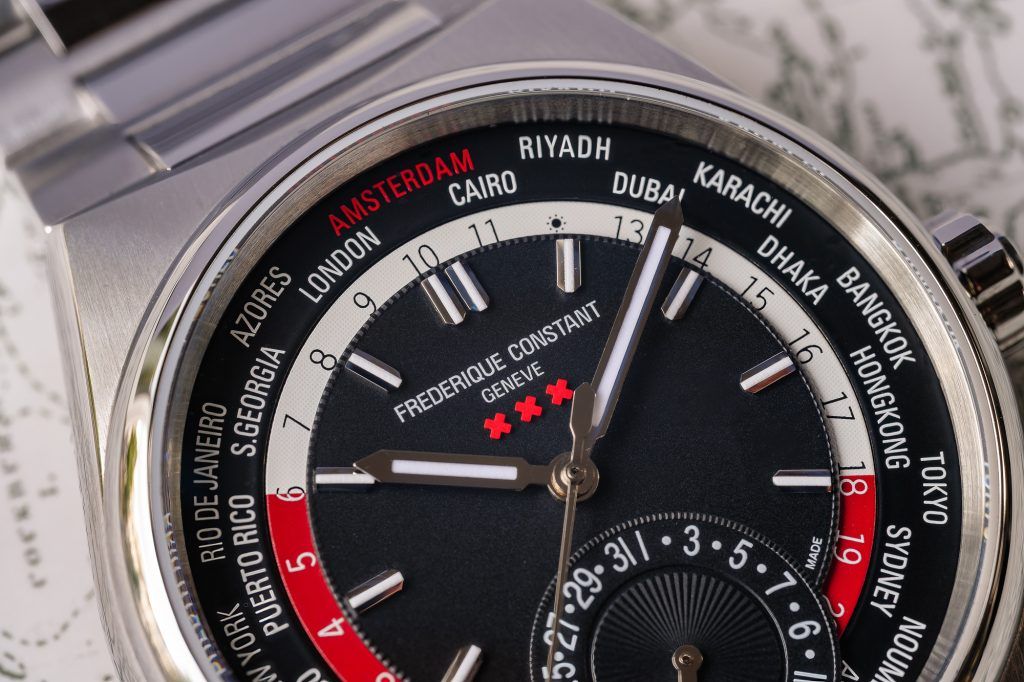 FREDERIQUE CONSTANT
Frederique Constant is a Swiss watchmaking brand renowned for its commitment to creating elegant, high-quality timepieces at accessible price points. The brand was founded in 1988 by the Dutch Aletta Bax and Peter Stas in Geneva, Switzerland. The husband-and-wife team shared a vision to produce affordable Swiss watches with a focus on classic design, precision, and craftsmanship.
The brand entered the watch market at a time when Swiss luxury watches were often out of reach for many consumers due to their high costs. Frederique Constant aimed to change this by offering timepieces that combined traditional Swiss watchmaking with affordability. One of Frederique Constant's notable achievements came in 2004 when the company introduced its first in-house movement, the Calibre FC-910. This marked a significant milestone for the brand as it demonstrated its commitment to innovation and independence in watchmaking. To date, the brand has created over 30 different manufacture movement, including the 2012 FC-718 Worldtimer movement and the highly innovative FC-810 'Monolithic' of 2021.
ACE JEWELERS
The Dutch Ace Jewelers is owned and run by the Ben Joseph family. It encompasses both a luxurious boutique and an international eBoutique. Situated in Amsterdam's Museum Quarter in The Netherlands, the Ace & Dik boutique proudly serves as an authorized dealer for an extensive array of top-tier fine jewelry and watch brands. These include esteemed names such as Tudor, Zenith, Bulgari, Christiaan van der Klaauw, Nomos, Nanis, and numerous others.
Over the past decade, Ace Jewelers has collaborated with various brands to create limited edition timepieces, all of which have garnered critical acclaim. Since its inception in 1975, Ace Jewelers has also maintained an extensive collection of high-end, certified pre-owned watches. In 2008, Ace Jewelers introduced the eBoutique AceJewelers.com, establishing itself as an innovative omni-channel retailer in the industry.
AVAILABILITY
The Frederique Constant Highlife Worldtimer Amsterdam is exclusively available from Ace Jewelers boutique in Amsterdam, the Netherlands, as well as online via AceJewelers.com. The price is EUR 4.295 incl. VAT / EUR 3.550 excl. VAT.