Last week our colleagues Tamarah and Alon had the honor of being invited by BVLGARI to visit several of their watchmaking facilities in Switzerland during a three-day trip. As this was Tamarah's first proper manufacture visit, we asked her to keep a travel diary for our blog.

Day 1 - 10:30 - Schiphol
I just arrived at Schiphol for our 12:30 flight to Geneva. Excitement is running through my veins, today is the day that we will be visiting Bvlgari! This will be my first official factory visit. Although my colleagues have shared a lot of stories and images of various visits they've made, I'm still very curious and excited to experience it for myself. Off we go!
Day 1 - 14:00 - Geneva Airport
We arrived at Geneva airport after a smooth flight, and after getting our bags we met the first few of our fellow Bvlgari group members. Hands are shaken and from the start on there was a good vibe. It's like going on a first date and you immediate click. We had the honor to meet a lady from Sweden, a gentleman from Germany and our favorite brand manager, Oliver Jansen.
Day 1- 16:00 - Hôtel Beau-Rivage, Neuchatel
The drive from the airport to the hotel took almost 2 hours, which gave us the perfect opportunity to get to know our fellow travelers and enjoy the beautiful scenery. After we arrived at Hotel Beau-Rivage in Neuchatel, we quickly checked in. Both the rooms and the view over Lac de Neuchatel were beautiful, but even more surprising were the thoughtful welcoming letter by Mr. Christian Sommer,and the personalized watchmakers coat awaiting us on the bed.
Day 1 - 18:00- Veranda Bar, Beau-Rivage
After a brief rest we headed to the Veranda Bar of the hotel, where our hosts introduced us to the rest of the group - including new faces from Finland, Sweden and Germany. While enjoying a glass of champagne we were briefed on the plans for the next two days and got to learn about our new friends, their boutiques, and their countries.
Day 1 - 19:30 - Hôtel Palafitte, Neuchatel
We were invited by Bvlgari to dinner in the stunning Palafitte hotel. Although only a short ride, the change of scenery couldn't be bigger. The Beau-Rivage is a true grand dame, while the Palafitte is very modern. It's located directly on the waterfront, and while it was already quite dark, we still got to enjoy a glimpse of the spectacular views. A three-course dinner was served at the La Table de Palafitte restaurant. The food was spectacular - and so were the wines :) . We headed back to our hotel around 23:00 for a quick nights rest.
Day 2 - 6:00 - Hôtel Beau-Rivage, Neuchatel
Ouch - my alarm went off early! The view from my window did kind of make up for it though. After a quick shower I went downstairs for breakfast to gain some energy for the day ahead. The shuttle was waiting for us at 8:00.
Day 2 - 8:15 - Bulgari Horlogerie
Our first visit of the day was to Bulgari Horlogerie. This is where the brand does -among other things- the design and marketing, but also the final assembly of watches. We were greeted by Diana, who is the marketing specialist haute horlogerie. We were very impressed by her passion for Bulgari and knowledge of the brand!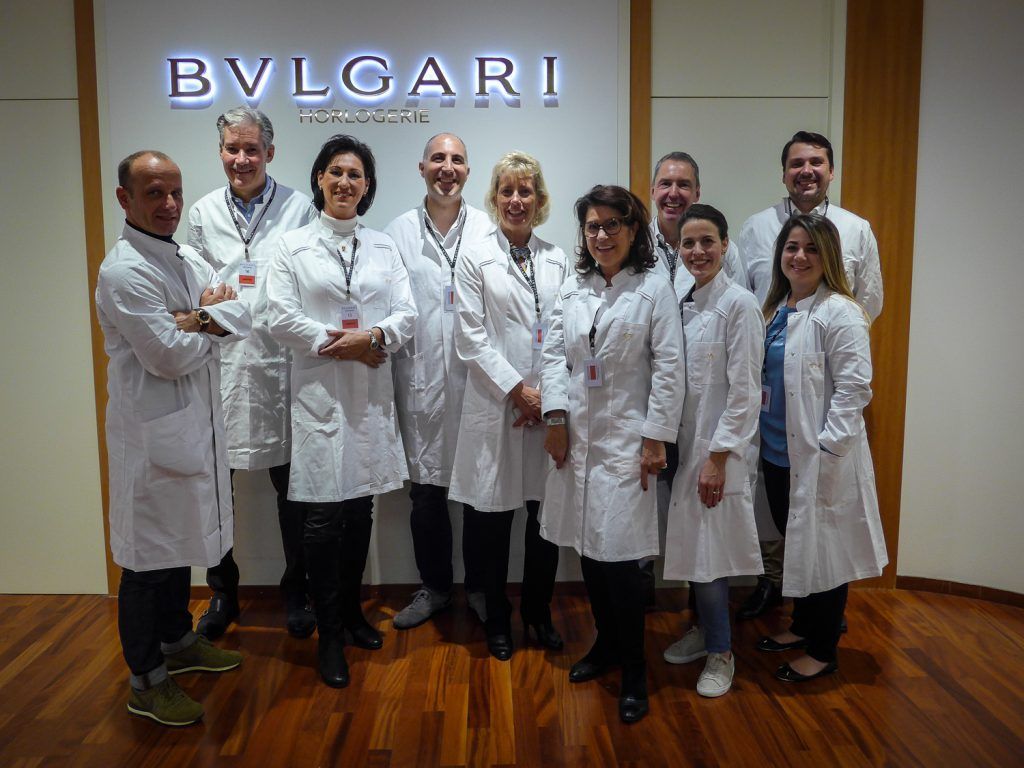 Day 2 - 8:45 - Bulgari Horlogerie - Assembly
Diana took us on a tour of the facility and its various departments. One of them was the final assembly, where we got to see how movements paired to their dials and finally cased up. We caught a glimpse of quite a few cool top secret limited editions and rare complications that made our heart beat faster! They even tried to recruit Alon, but after a brief test working on a dummy movement it was deemed that he was more suited to retail ;) .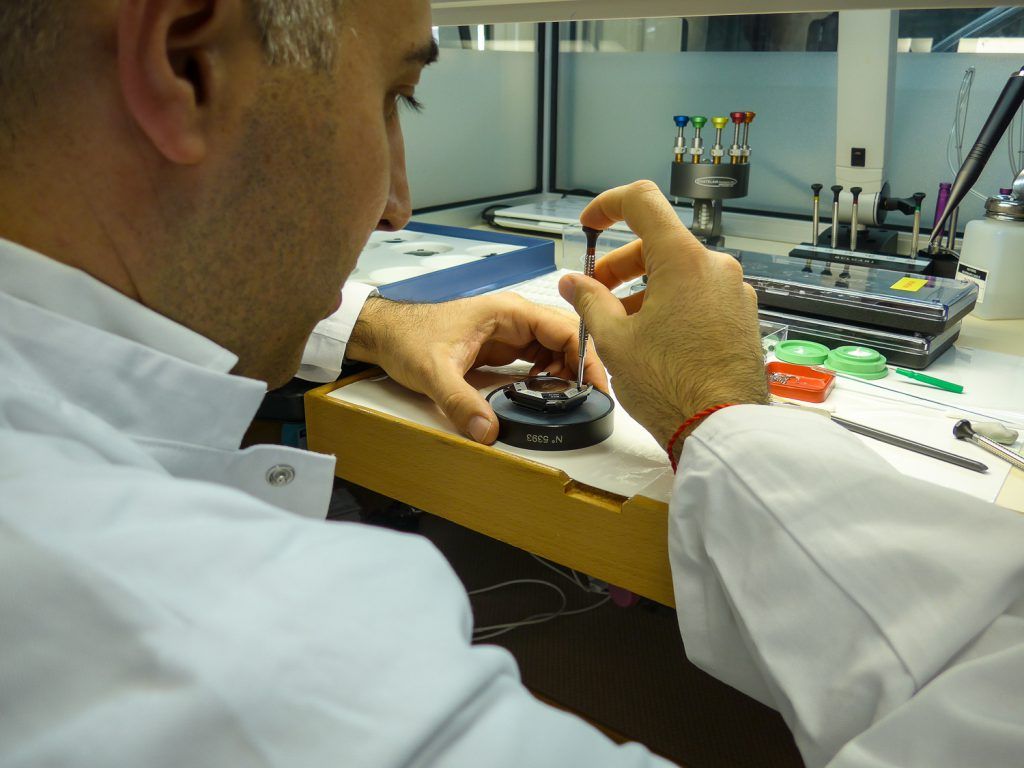 Day 2 - 10:00 - Bulgari Horlogerie - Design Department
Following assembly we went on the design department. It was made clear to us that design is one of the brand's leading principles. Whereas with other brands a big part of the design is often dictated by the movements, with Bulgari it's often the other way around - the watchmakers must make the movements that go with a design. This particularly shows in watches like the Octo Finissimo.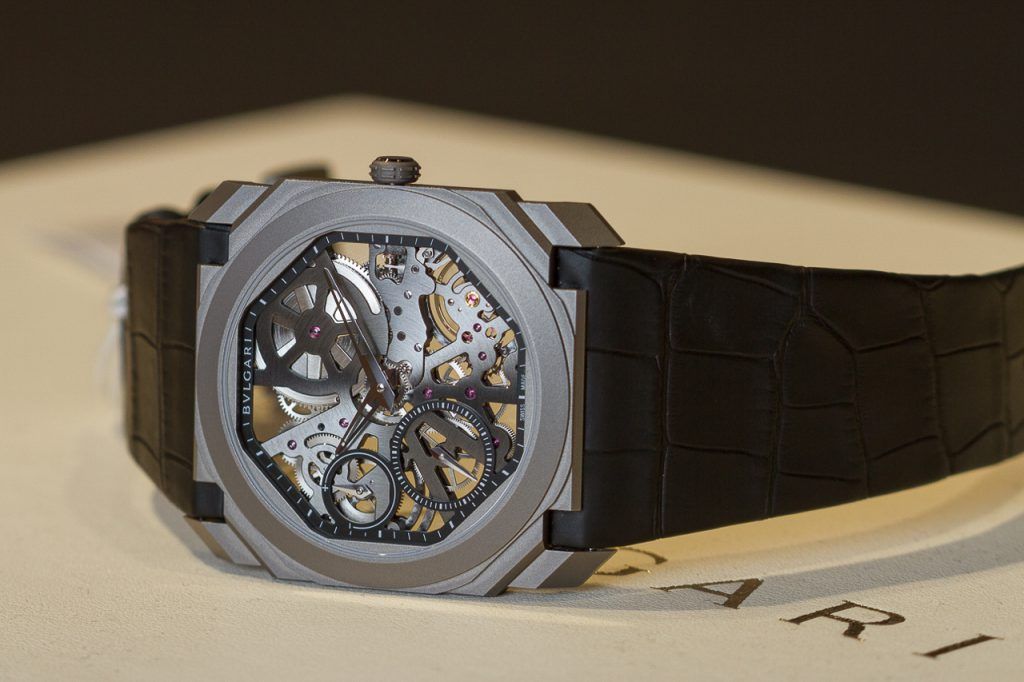 Day 2 - 11:45 - La Valeur du Temps, Le Sentier
After freshening up we took the shuttle to Le Sentier, where a lunch with typical Swiss dishes was served at brasserie La Valeur du Temps.
Day 2 - 14:00 - Bulgari Manufacture de Haute Horlogerie
Next on our schedule was the Manufacture de Haute Horlogerie facility. This is were Bulgari makes its in-house movements, including watches with tourbillon, minute repeater, and even the grande sonnerie. Diana gave us a highly interesting presentation on the brand's heritage, it's market position, and it's aspirations.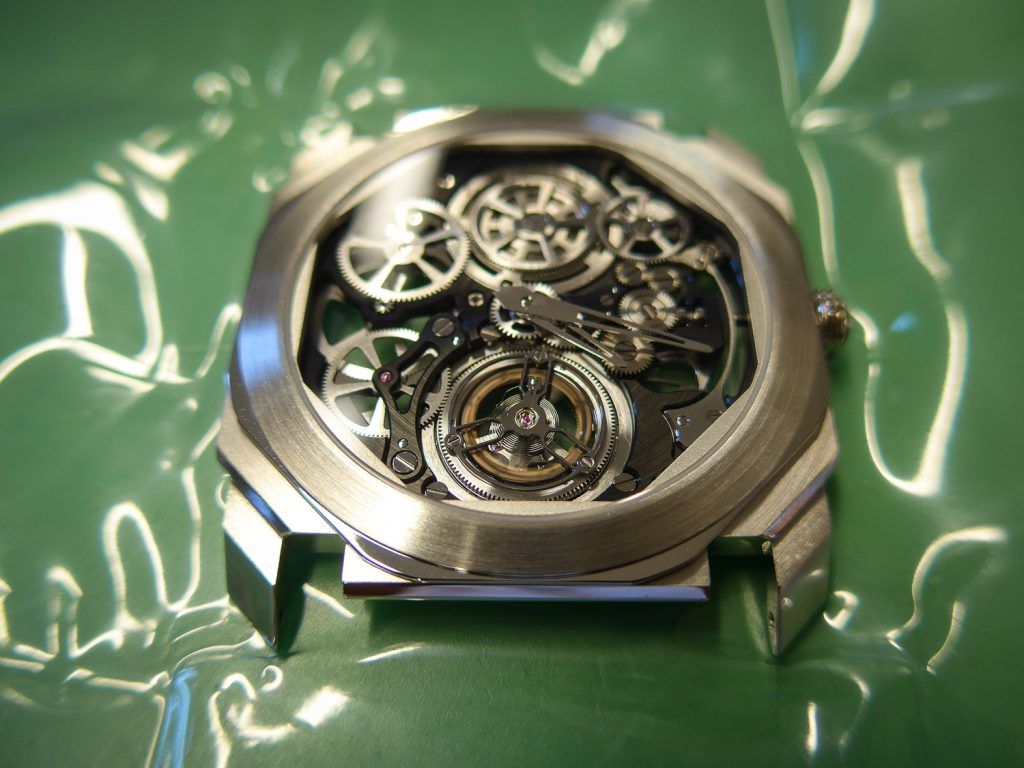 At the workshops, I got to try my hand at finishing a tourbillon bridge, which to be honest was only moderately successful. I was stunned to see the number of parts, the tight tolerances, and how even the tiniest components are finished to an exceedingly high standard. At 16:30 we took a shuttle back to the Beau-Rivage, still dreaming about those beautiful chimes of the minute repeater which we got to hear!
Day 2 - 19:30 - Hôtel DuPeyrou, Neuchatel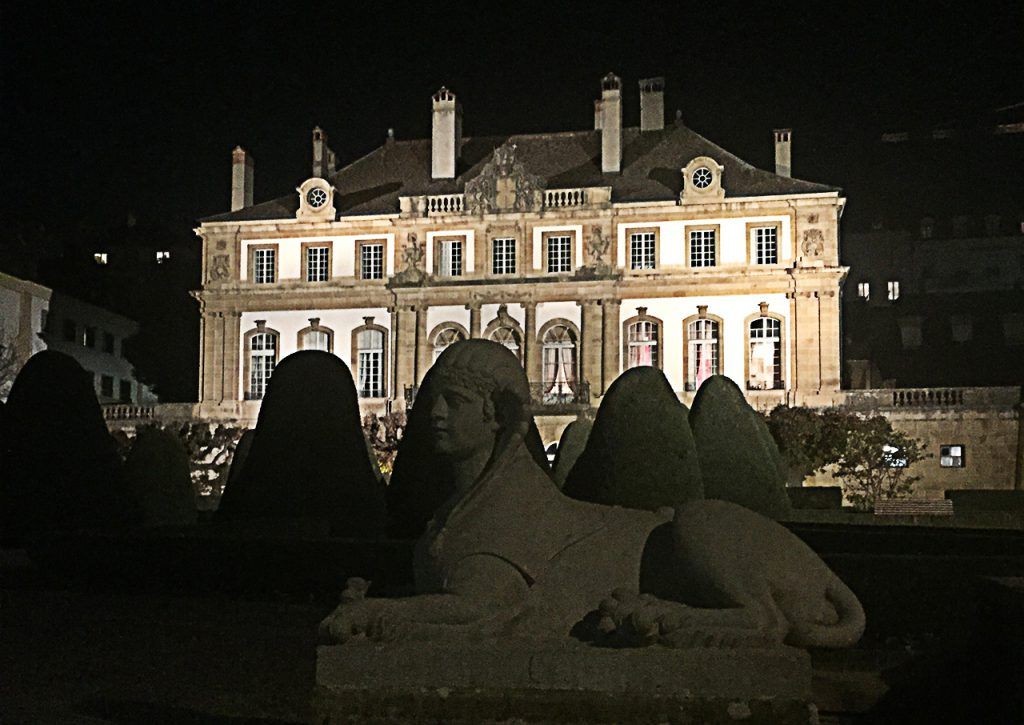 This evening we were invited to have dinner at the Hotel DuPeyrou, which was at walking distance of our hotel. At this stately mansion we were treated to a wonderful meal by an Australian masterchef, who designed a menu especially for us. We left a little after midnight, after a long day of enjoying la dolce vita.
Day 3 - 8:00 - Hôtel Beau-Rivage
Luckily didn't go off quite as early as the day before, as today we were picked up by our shuttle at 9:00 for a ride to La Chaux-de-Fonds.
Day 3 - 9:45 - Bulgari Manufacture de Cadrans, La Chaux-de-Fonds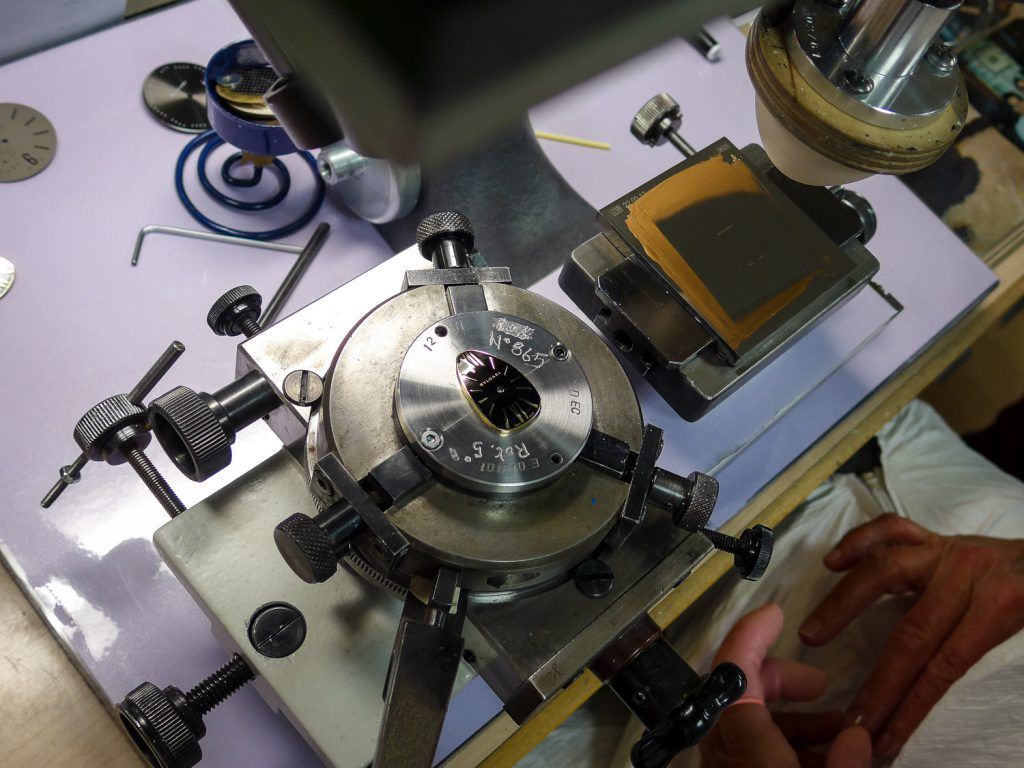 First order of business was a visit to Bulgari's in-house dial factory. Here we got to experience the full scope of Bulgari's dial production - from their simple brass beginnings to the final product being some of the most impressive dials I've ever seen. Even things like the numerals are made in house, as are the notoriously difficult enamel and cloisonne enamel dials.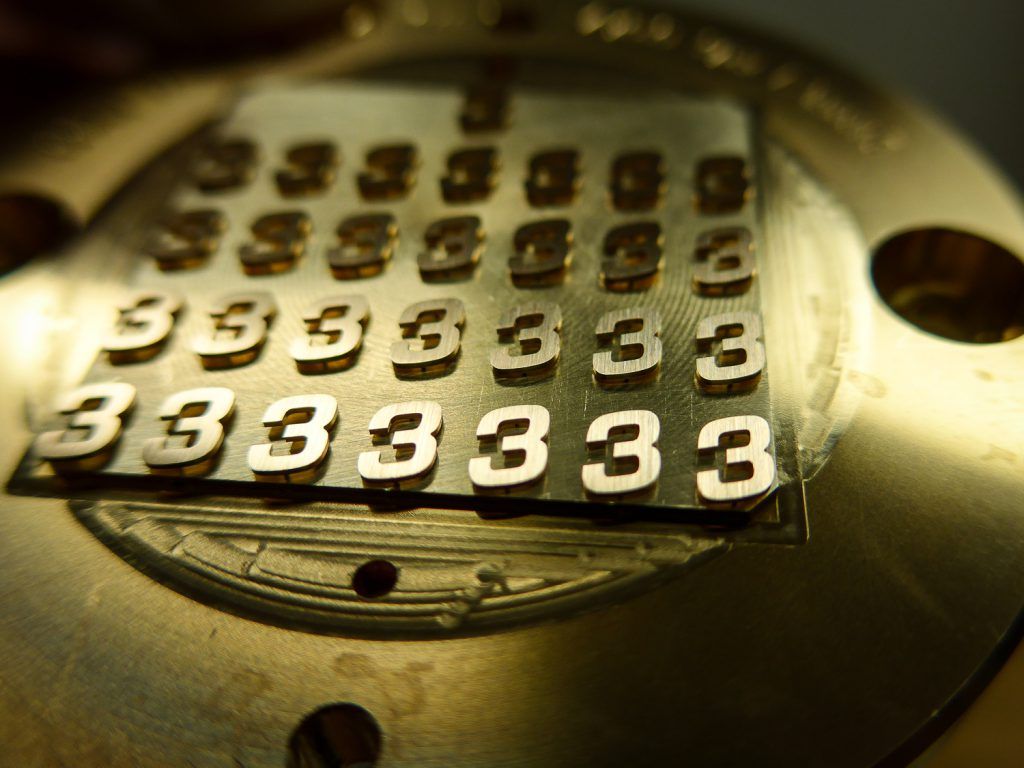 I was surprised to hear that a big part of the dials did not meet the final in-house quality standard, which is a true testament to the brand's aim for perfection at every single level and with each and every component. There's no compromising.
Day 3 - 12:00 - Hôtel de Ville, La Chaux-de-Fonds
For lunch we drove to Hôtel de Ville, a charming little restaurant in the center of La Chaux-de-Fonds. Afterwards we said goodbye to part of our group, who had quite the ride ahead of them.
Day 3 - 14:15 - Chocolaterie Jacot
Our final visit on this Bulgari journey had nothing to do with watches, but rather with Switzerland's other famous export product: CHOCOLATE! We headed over to chocolaterie Jacot, which is world-renowned for its exclusive -well- chocolates. We were introduced to the brand and its heritage, followed by a chocolate and wine tasting under the guidance of their master chocolatier.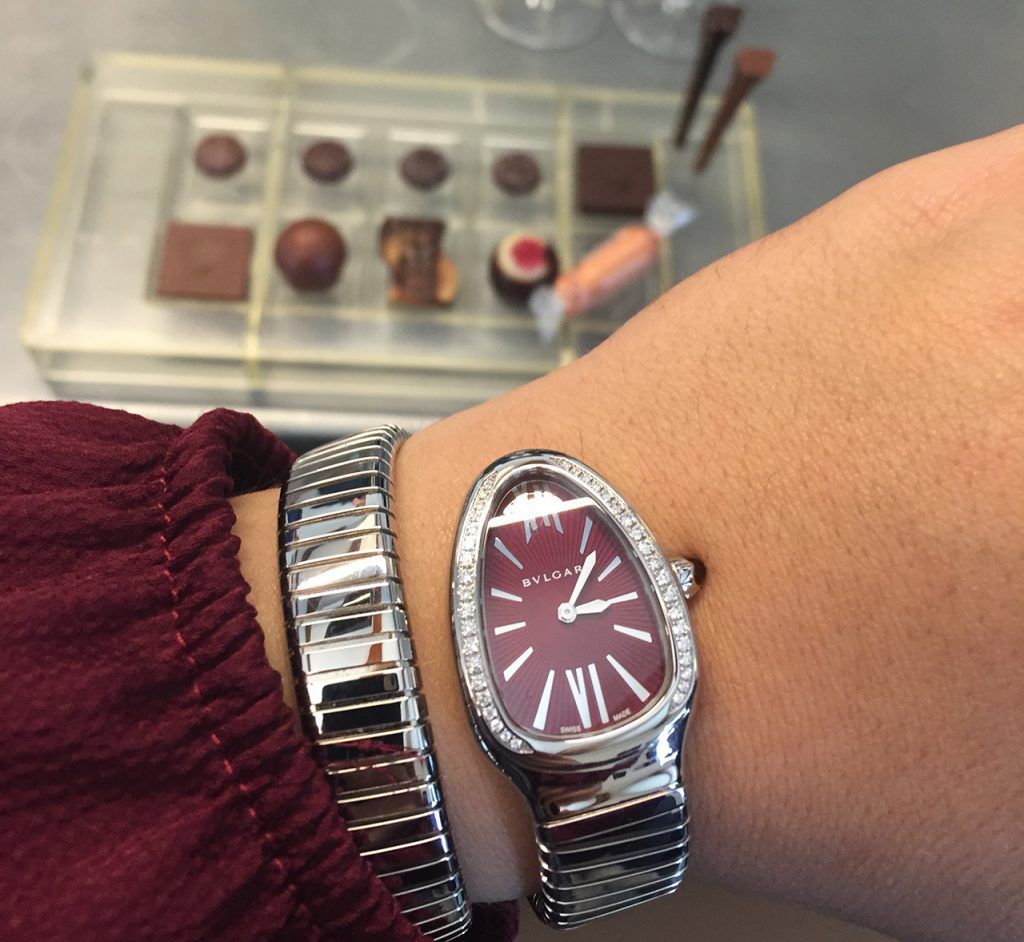 With glowing cheeks from both the wine and the chocolate we said goodbye to Diana and our new friends, after which the driver took us to the airport at lightning speed.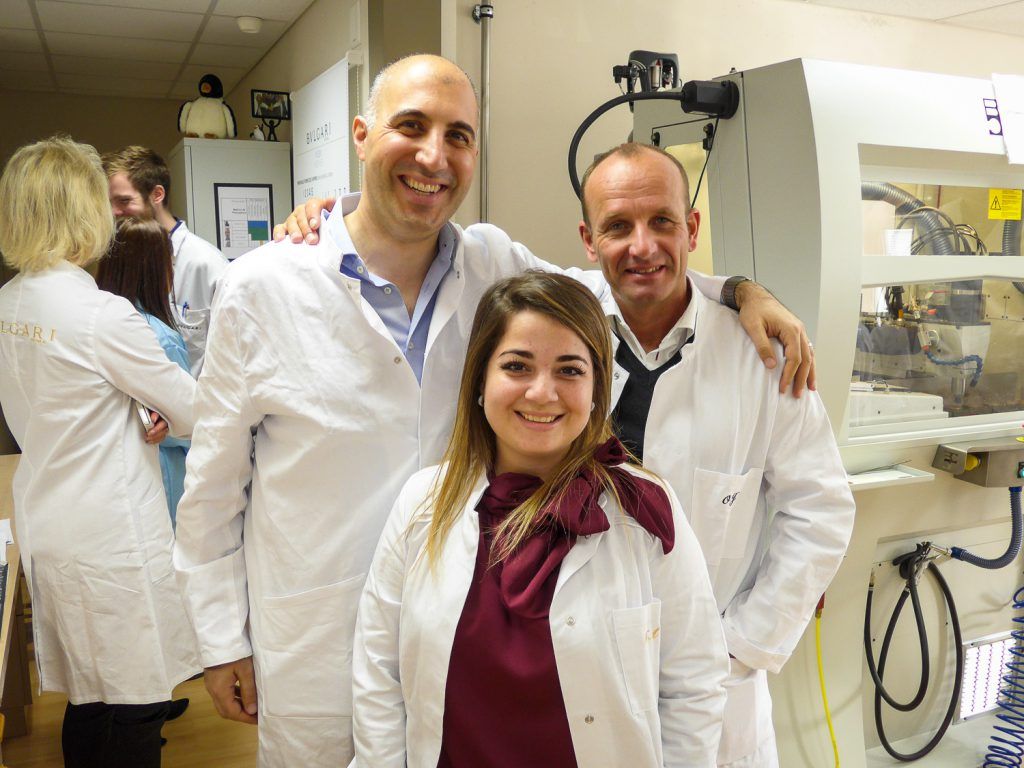 Day 3 - 18:00 - Geneva Airport
Notwithstanding the good efforts made by our driver, we arrived just a little late at Geneva Airport. Luckily we didn't miss our flight though, and I slept like a baby on our way back!
Day 3 - 20:00 - Schiphol / Conclusion
As stated above, this Bulgari trip was my first factory visit ever. I got a whole new appreciation for watchmaking in general but especially for Bulgari. Their drive to design and manufacture unique and award-winning watches is highly inspirational and very impressive. While the watches are Swiss Made, they couldn't embody the Italian sense of design and good taste any better. A rare and award-winning combination!
I would like to thank Team Bulgari for this wonderful experience. See you soon!
Tamarah
Bulgari is available in our eBoutique and at both Ace & Spyer and Ace & Dik.