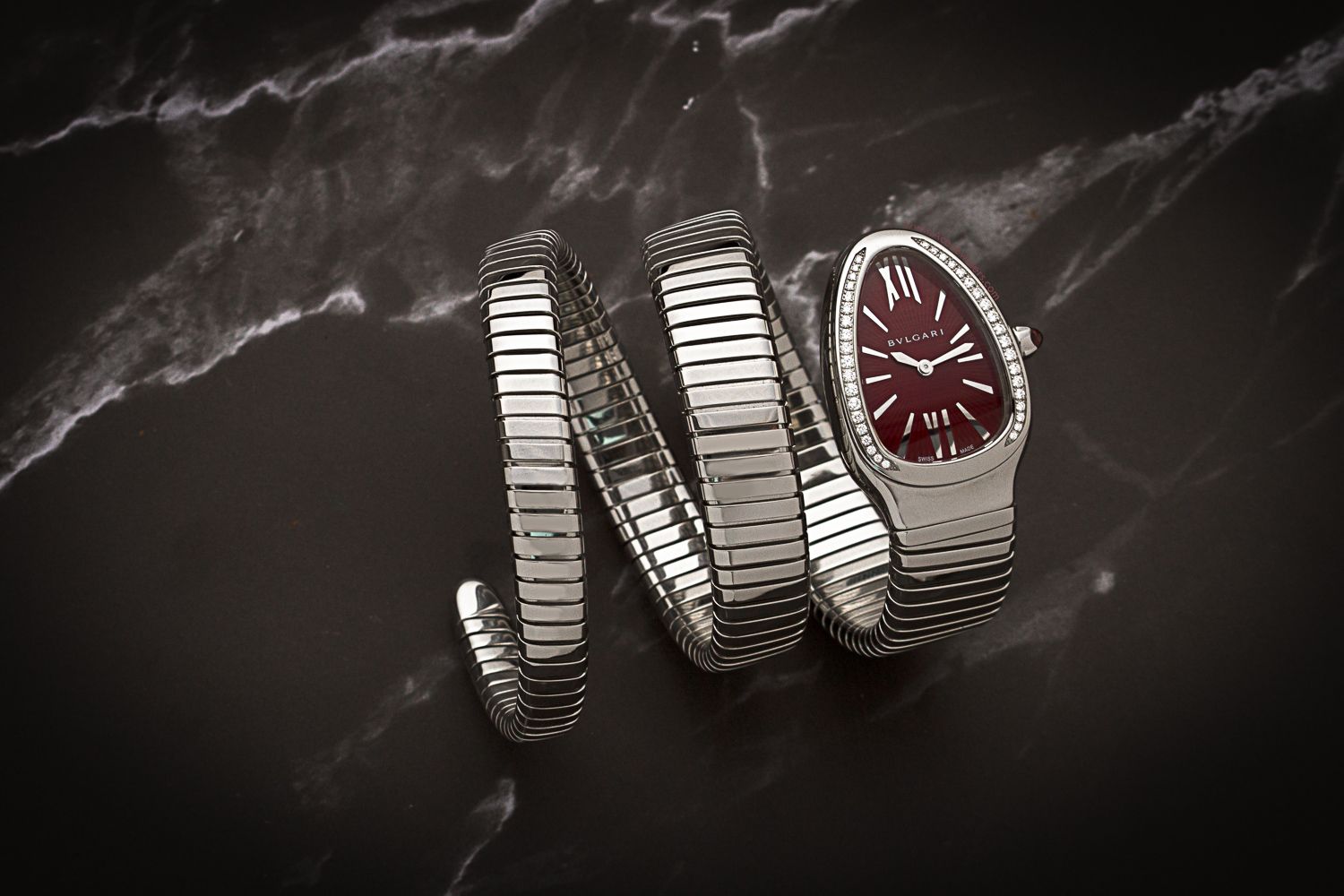 The Bulgari Serpenti is an iconic watch that gained popularity through famous movie stars like Elizabeth Taylor. The snake inspired watch is truly a feminine and innovative timepiece with a unique design. The snake has been featured in jewelry dating back centuries, even to Cleopatra's time, so it makes sense that someone like Elizabeth Taylor has been spotted wearing the timepiece.
Personally, I almost always wear a man's watch. I'm not usually attracted to watches with a mother of pearl dial with a diamond index. It's too predictable and has been done way too much by almost every luxury watch brand. I own an Omega Speedmaster and a Nomos Club Campus, neither of which are very 'feminine'. I was so excited to wear the Bulgari Serpenti Turbogas for a couple of days- it's something totally different from what I usually wear, and also different from most ladies watches.
Finally, the day came when the Serpenti Turbogas with the double spiral bracelet arrived. After taking the watch out of the box, some questions popped into my head. I do want to be clear though, I've always loved this watch and how stylish it looked on other people; I just wasn't sure if I could pull it off. I usually wear my watches a bit loose- not like a bracelet, but not super tight, either. The double wrap around bracelet wraps tightly around your wrist, so that took a little getting use to. Secondly, I was nervous about the high-polished finish of the watch. How easy will the watch scratch? Will the finger prints get annoying? Will dust get stuck inbetween the 'scales' on the watch? These were just mild concerns though, and most importantly, I couldn't wait to show it off to the world.
The first day I had to get used to the fit of the watch. The Serpenti does gracefully embrace your wrist. The first hour I caught myself readjusting the bracelet a few times so it wouldn't be as tight. I therefore decided to time myself to see how fast I would get used to it. To my surprise I only needed a bit over three hours- not bad. First concern was out the window. The Serpenti was growing on me more and more.
The Serpenti was getting quite the attention from friends, family and even people I didn't know. I caught people looking at my watch when I had to wait for the traffic lights while cycling back home from work. The steel double wrap around Serpenti with red dial and diamond bezel does deserve a lot of attention. The guillache finish of the dial with the applied mixed numerals gives depth to the dial which is really beautiful. The bezel is beautifully decorated with diamonds, the timepiece oozes elegance. The double spiral strap keeps the watch securely on your wrist; I actually question how well the single spiral strap would stay on one's wrist, but I guess I would have to try that one to find out. The crown is set with a pink topaz for a glamorous look. Because of the polished finish, the diamonds are not really flashy, which is a good thing. I think one could wear this to almost every occassion- from a high tea to casual diner, at work or even at home. I think that is important to a lot of people.
Overall I really enjoyed wearing the Serpenti. It really exceeded all of my expectations. Seeing finger prints on the watch was not a problem at all; you don't see them because of the small scales. The fit wasn't a problem after a couple of hours, either. I didn't notice dust getting stuck in between the scales. Although, I wouldn't recommend taking a watch like this to the beach- then perhaps one would get sand stuck in between!