Amsterdam, March 9th, 2017 – For the third year in a row, Ace Jewelers has won the Dutch eCommerce Shopping Awards Publieksprijs for best eBoutique in the luxury sector. Judging for the Shopping Awards (formerly Thuiswinkel Awards) was determined by evaluations from thousands of independent consumers.
On Thursday, March 9th 2017, Ace Jewelers received the Shopping Award for best eBoutique in its class. The awards are based on independent evaluations where thousands of consumers have rated their favorite online boutiques. The award was presented to Ace Jewelers by Dutch TV-personality Jan-Joost van Gangelen at the Media Plaza in Utrecht.
"We are truly humbled that for the third year in row consumers rated us as the best eBoutique in the Dutch fashion industry," says Alon Ben Joseph, CEO Ace Jewelers Group. "Our family-owned and run business is fueled by passionate team members that try to excel on a daily basis. We live for our customers and strive for the best service possible. The feedback we receive every year during the nomination process is very valuable for us and helps us to improve even more. We thank our customers for this award and perceive it as a crown for our hard work."
The family-owned Ace Jewelers Group was founded in Amsterdam over 40 years ago. In 2007, the company evolved to a multichannel retailer, with a strong presence and identity both online and offline. Ace is committed to providing superb customer service with their knowledge and passion, in store and online. Ace was the first high-end Dutch jeweler to make this move and implement a full-service eBoutique into its strategy. Eight years later, consumers voted for Ace as one of the top Dutch boutiques on the web for the first time.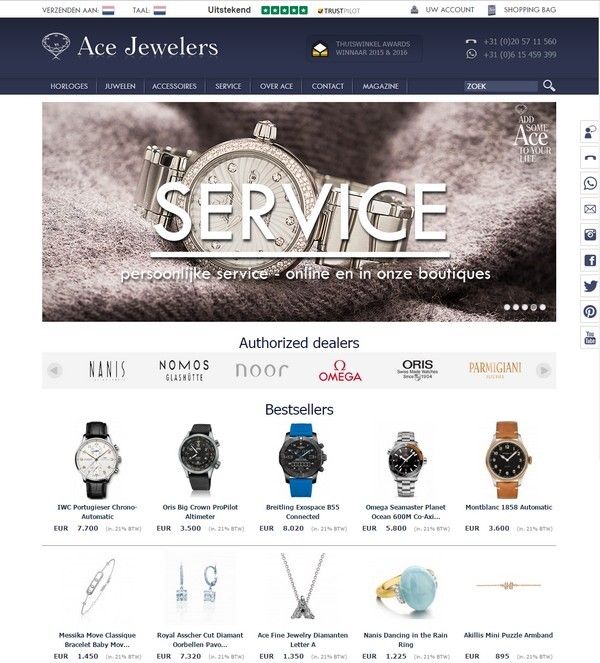 Thuiswinkel.org
Thuiswinkel.org is the Dutch national eCommerce trade association. Besides looking after the interests of its members, the mission of the organization is to increase confidence in online shopping. Thuiswinkel.org introduced a seal of approval where a shop must meet a number of criteria including financial stability, warranty and privacy. This ensures that consumers can shop online with confidence. Currently there are more than 2,100 certified online stores with the so-called Thuiswinkel Waarborg, including Ace Jewelers.
~Dale Vito