Ace Jewelers launches www.acejewelers.com - The first authorised online jeweler in the Netherlands.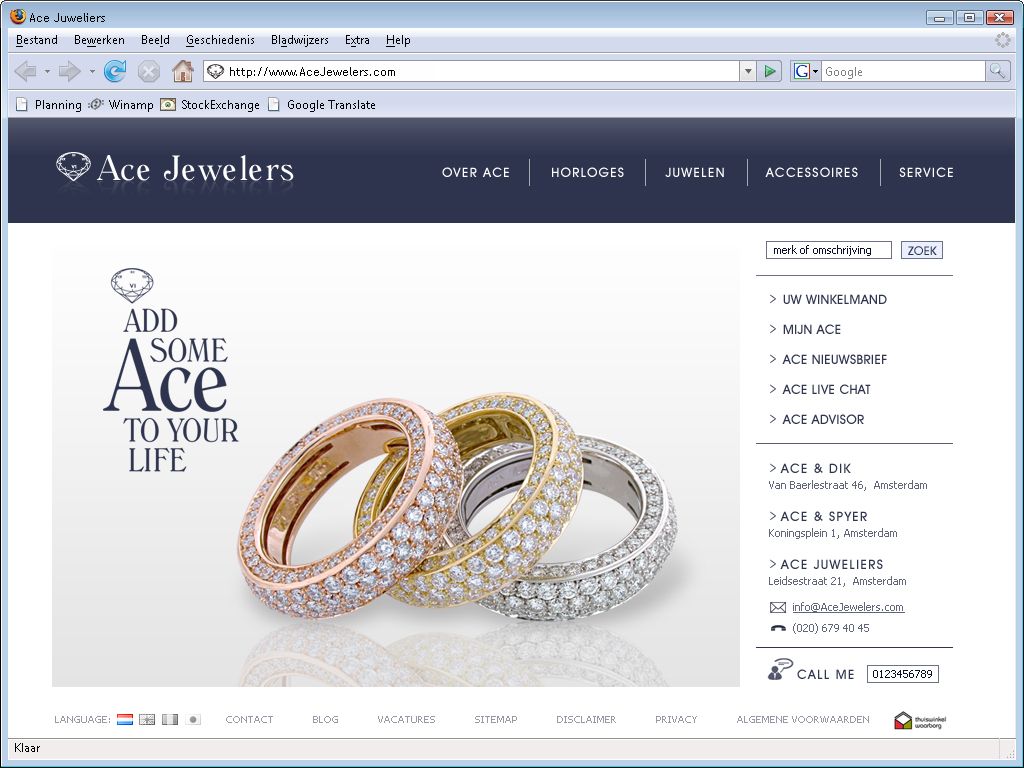 Amsterdam. On the 20th of March 2009, the Ace Jewelers Group launches the first official online jeweler in the Netherlands: www.acejewelers.com. Top branded watches and jewellery, such as IWC, Baume & Mercier, Omega, Gucci, TiSento, Marco Bicego and many others, can be ordered securely online at the e-boutique of this renowned Amsterdam jeweler.
Officially Recognised
Acejewelers.com is also the first online retailer of Gucci watches and jewelry presented exclusively in the first Gucci e-corner in Europe.
Other top brands presented by this e-jeweler are : Oris, Longines, Rado,TAG Heuer watches; Eden, Jean-Marc Garel, Monzario, Xen, Royal Asscher Diamond jewelry; and wedding rings by Martinshof and Meister. Furthermore, Ace Jewelers is the exclusive distributor of Itay Noy watches in Europe. All the watches and jewelry available at the e-boutique are certified by the brands so that the normal warranty and service conditions are guaranteed.
Extensive and Current Collections
The online collections at acejewelers.com are extensive and always up-to-date. The website presents the whole brand's collection so that one can browse and orientate at the comfort of one's home, prior to choosing a method of purchase. The watches and jewelry can be purchased directly online, by telephone, email or in the shop. Interaction with the consumer remains the top priority! The online Ace Advisor can give advice and suggestions about brands and models on the basis of the information provided by the customer.
Ace Jewelers Group
Since 1975, Ace Jewelers Group has been one of the most renowned jewelers in Amsterdam and authorised dealer of many major brands. Examples of these include Breitling, Omega, TAG Heuer and IWC. Ace Jewelers has three branches; One of which is situated in the heart of Amsterdam, Ace & Spyer, on the corner of Koningsplein and the Flower Market. The second store, Ace & Dik located on the Van Baerlestraat, has been a jewelry business for more than 70 years. Also located in the heart of Amsterdam is Ace Jewelers, on the Leidsestraat, where mostly trendsetting brands such as TiSento, Armani, Dolce & Gabbana are displayed.